People of developed or under development countries, businessman, and students are spending their maximum time to operate mobile phones. Study says that average time is about 6 hours/day. Default system of mobile phone device keyboard isn't very suitable always. That color is some kind of grey type and theme is simple in the keyboard of the mobile. But mostly users can enjoy with more colors in their keyboard by applying different setting.
Developers have made many useful mobile apps to make it more simple, useful and enjoyable. There are lots of things a mobile phone can do with simple touch. Installation of third party apps from google play store or other android play store is very easy with security. You may be aware from all features of your smart phone device.
Android mobile phone offers set of different color and images for your keyboard of the mobile phone. You not only can change your keyboard color but you can also change your background through your favorite image in the keyboard. Here I am explaining step by step guidelines to make your handset friendlier.
How to Start:
If GBoard Google keyboard app is not installed in your mobile phone then first install the GBoard Google keyboard in your smart phone mobile from Google Play store.
Step 1
To change the themes of keyboard go to the setting in your mobile. And then choose the language & input option in the Setting.
Step 2
After click on the language & input option, click on the GBoard (Google Keyboard) option.
Step 3
Click on the Theme option.
Step 4
You will see lots of theme options to set your keyboard style. You can choose your favourite colour and picture to set your keyboard of the mobile phone device.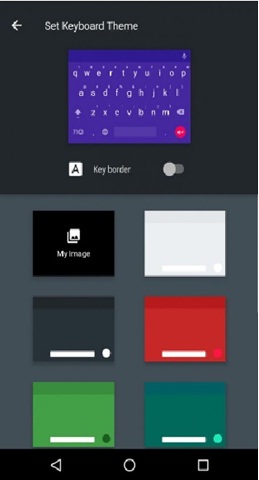 The app installs folders which contain photos to select your favourite picture which you like and then select your picture to set your keyboard.
After that, click on the next option and then done option.
So, your favourite picture has now set as a background image in your Google keyboard of android mobile.
The keyboard setting comes with lots of important features. You can add the borders to the pictures. One of the big changes was the elimination of outlines for individual keys: instead, numbers, letters and symbols simply appeared to be floating on the keypad.
Add border to keys in Android Keyboard
Go to Setting -> Language & input -> Google Keyboard -> Set Keyboard Theme and then adjust the border on the Key boarder switch option. After that your keyboard keys effect looks very effective.
You can also change the height of the keyboard as per mobile phone device. Mainly size of the keyboard is default in our android device which takes up about the bottom 40 percent of the mobile screen. If you want the keyboard height small and larger then you can easily change the keyboard height.
Change the height of your keyboard
Go to Setting -> Language & input -> Google Keyboard -> Preferences -> Keyboard Height.
Then  use slider to adjust new height setting. You can expand the keyboard size large and small which you want in your mobile screen.