Most people are getting excited when hear free Internet. If you're also one of them who tired from paying big internet bills which is increasing from monthly with use then it's a time to say it bye-bye. You can find many ISP companies who offer free or very cheap internet services. But all it depend upon your physical location and financial condition.
FreedomPop
It's USA based company which use Sprint, Three, and AT&T companies networks. Currently it's serving in United states of America and Europe regions. You just need to check availability in your area by inserting ZIP and email address in text box. FreedomPop offers 100% free internet with high speed internet connectivity.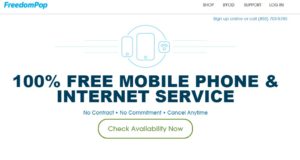 Features
There basic plan is absolutely free with 500 texts, 200 minutes, and 500MB each month

No contract, No commitment, you can cancel it anytime
Premium big saving plans available
Free Calling and texting within FreedomPop phones
Free international calling from over 60 countries
8 millions hotspots access nationally
Get virtual number from anywhere in world
Free 4G LTE data as a referral program
The company sales mobile phones, gadgets, wifi devices and global SIM card too.
NetZero
Go with NetZero free plan. They offers 10 hours free internet per month with display ads in your browser.

Hotspot
WiFi consist more 100 millions of free hotspot connection around the world even in rural areas. You can connect your windows operating systems, Android phones and iPhone too by searching available free hotspot points within your area. Just download any of below apps/software to find it.
Windows: NetStumbler, InSSIDer or Ekahau
Macs: iStumbler, KisMAC, WiFi Explorer, Netspot
Android: Element53 Lite, ProxyDroid, WIFI password
Cable Connection
If you have already a working internet cable connection then you can access many hotspots nearby you. To get it done download their apps. Bright House Networks, Cox, Optimum, Time Warner and Xfinity allow using each other hotspot connection for their customers. You just need to have internet connection to get free access of their hotspots.
All Free ISP
If FreedomPop isn't works for you then you can find other available free ISP companies at all-free-isp.com
Select your state or insert your ZIP code and click go.
System will search and shows list of free internet service providers
Currently they have 43,942 dial up access number, covered 24,860 cities with 27 free internet service providers.
You may be interested for my site below contents.
Get Free Fast Unlimited Internet For Android Users
Phone and TV
You can combine your data plan with your TV or phone package service. The satellite TV companies such as Dish network & Att are offering many promotional package offers to attract both type of customers using one monthly bill invoice.
If internet speed is not your priority then you should go with dial-up Internet (DSL) with your home phone line.
Always check cheapinternet.com once in a month for other free and cheaper available internet package available in your region. You can search other free and cheaper rate internet service provider details at ispprovidersinmyarea.com too.