We explain how to use WhatsApp Web to have the app on multiple phones
So you want to share the same WhatsApp account on two separate phones?
Technically, you can't (yet): "There is no option to have a WhatsApp account with two phone numbers", says the WhatsApp FAQs – an unhelpful answer if you have a second phone but don't want to deactivate WhatsApp on your first phone.
We had hoped that WhatsApp's multi-device feature would solve this particular gripe, but unfortunately it doesn't. It simply lets you link four devices to your WhatsApp account, but those can't be other phones. They must be computers or tablets.
However, there is a very simple workaround to get WhatsApp working on two phones at once. The solution is to use WhatsApp Web, and though it means you can't use the WhatsApp app on both phones it will let you access the same account on separate devices using a browser.
Here's how:
Open the browser on your second phone and head to Whatsapp Web (web.whatsapp.com)
Go to the Settings (Android – three dots, top right; iPhone – three dots, bottom right ) and choose Desktop site / Request desktop site, which should take you to a page with a QR code.
(If you get redirected to the WhatsApp desktop homepage, just click "WhatsApp Web" at the top left).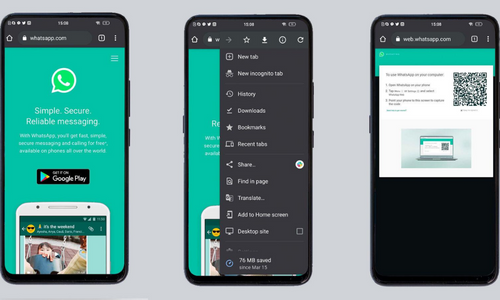 Open the WhatsApp app on your first phone and go to Settings > Click on WhatsApp Web > Click on Link Device
Scan the QR code from your second phone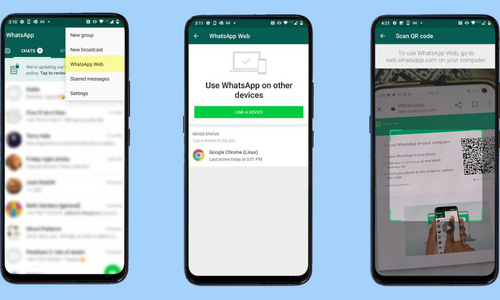 You should now be able to use WhatsApp on both phones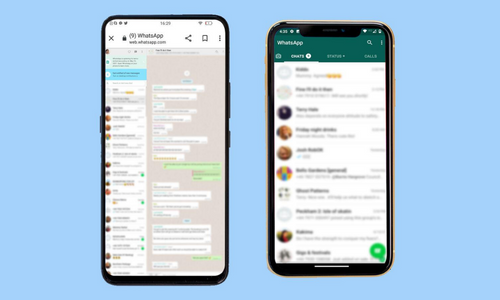 Requirements for Setting up WhatsApp on Two Phones
Before we begin, there are certain requirements you need to fulfill to make the process work for you. Make sure you cross off the following items:
1. WhatsApp Already Set up on Your Primary Device
To make sure your secondary WhatsApp connection works, you will need the messenger installed and set up on your primary device. If you already use WhatsApp on your main phone, then you are good to go. Otherwise, make sure to set up the app on your primary phone before proceeding further.
2. Secondary Device with Internet Connectivity
To make sure the set-up process works without problems, you also need a secondary phone with internet connectivity. However, don't fret, as you don't need to install the WhatsApp app on it. Simply set it up and have it charged.
3. Web Browser of Your Choice
Our workaround to use WhatsApp on two phones will revolve around using a web browser. While any web browser will work, we personally recommend Google Chrome (Free) as it was fast and error-free in our testing. When it comes to iOS, we used Safari for this demo.
Use WhatsApp on Two Phones: Limitations of This Method
As you can see, this method of getting the same WhatsApp number to work on two phones is not pitch-perfect. The first and foremost thing you will notice is the scaling issue. Since the web app is not meant to be opened on a mobile device, its entire web UI appears zoomed out. To get past that, we had to manually zoom in onto chats a few times to properly read and reply to messages.
Unfortunately, there is no way to get around this, as we mentioned, the website was not designed for mobile devices. In our testing, there were also times when the page randomly refreshed, and we had to log in again. But don't worry, as it's normal. Nevertheless, in its current form, this is a good way to easily use the same WhatsApp account on two devices without problems.
Frequently Asked Questions (FAQ)
Is my secondary WhatsApp safe from snooping and hacking?
Yes, it absolutely is. WhatsApp Web connection, no matter which platform you are using, is protected by end-to-end encryption. What this means is that no third party can intercept the messages between you and the person you're sending the messages to. However, that doesn't cover people sneaking up on you to read your chats so be careful of them.
Can I repeat the same process with a third phone?
Yes, you can. As long as you have a free slot in your linked devices, you can go on to connect more phones without any issues.
Does this work with a mixture of Android and iOS devices?
While we have listed the steps for Android and iOS separately, you can go ahead and combine the two platforms to use them together.
How do I log out once I'm done?
If you do need to log out, it works the same way as on WhatsApp Web. Simply tap the ellipsis icon on the top right and tap "Log Out" to do so.
Have Fun Using the Same WhatsApp Phone on Multiple Devices
I hope you find this guide helpful in expanding your WhatsApp network to even more devices. To add your PC to this list, head on over and check out the WhatsApp native Windows app. A lot of interesting features might be coming to WhatsApp, including the ability to chat with yourself, screenshot blocking for View Once photos, and even editing your sent messages, so having the messenger on multiple devices will be even more useful. So how's your experience with this method? Let us know your thoughts in the comments below!