Mark Zuckerberg's Meta Platforms is exploring plans to launch a new social media app in its bid to displace Twitter as the world's "digital town square."
"We're exploring a standalone decentralized social network for sharing text updates. We believe there's an opportunity for a separate space where creators and public figures can share timely updates about their interests," a Meta spokesperson told Reuters in an emailed statement.
Meta's app will be based on a similar framework that powers Mastodon, a Twitter-like service that was launched in 2016.
A Twitter-like app would allow Meta to take advantage of the current chaos at the Elon Musk-led company, where cost-cutting has been rampant.
Twitter has been struggling to hold on to its advertising base since Musk's takeover of the platform late last year. Companies have pulled back spending following Twitter's move to restore suspended accounts and release a paid account verification that resulted in scammers impersonating firms.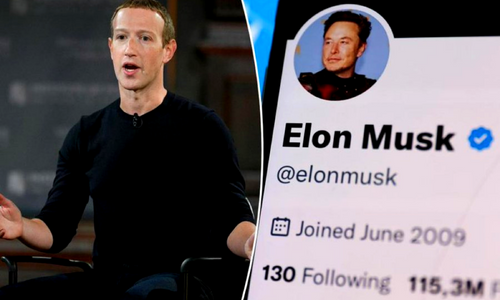 Zuckerberg's Meta's plans come at a time when its biggest platform, Facebook, is struggling to attract the attention of a younger audience, while its huge investments in the metaverse, a virtual world where users interact and work, show little signs of paying off, at least in the near term.
Its video-sharing app, Instagram, is also facing stiff competition as content makers or hit influencers abandon the platform for TikTok.
It was not immediately clear when Meta would roll out the new app.
"The history of Meta is that they are much better acquirers than they are innovators or developers … as far as copying Twitter, this is just a defensive move," said Thomas Hayes, chairman and managing member of New York-based Great Hill Capital.
They're just trying everything … at least with a mini blogging site like Twitter, there's some expectation that it could start to make money out of much quicker timeline than the metaverse investment."
Meta's investments in the metaverse will not drive revenue growth until 2030, analysts have said.
Meta shares were marginally higher at $181.7 in early trade on Friday. They have gained about 51% so far this year.
Mark Zuckerberg's Meta is considering creating a standalone, text-based social network that could rival Twitter.
Meta, which is the parent company of Facebook, WhatsApp and Instagram, has said it is 'exploring' the idea as it believes there's 'an opportunity' for a ​​'decentralized social network'.
In a statement to the BBC a Meta spokesperson said: "We're exploring a standalone decentralized social network for sharing text updates.
"We believe there's an opportunity for a separate space where creators and public figures can share timely updates about their interests."
As yet, Meta hasn't given a timeframe or a planned released date for the app.
According to a report from Money control, which first broke the story, the new app would be Instagram-branded and users would be able to log-in using their current Instagram credentials.
It is believed the platform will support a decentralized social networking protocol called Activity Pub, which is already used by Twitter rivals including Mastodon.
In a tweet, Twitter owner and CEO Elon Musk appeared to take a swipe at Zuckerberg over the news branding him a 'copycat'.
Replying to a post about why Zuckerberg would choose to 'launch a rival to Twitter', Musk wrote 'copy' alongside a cat emoji.
Meta's announcement comes as several alternatives to Twitter gained traction following the social media platform's takeover by billionaire Musk.
According to a report by Sky News, searches for the words 'Twitter alternatives' spiked around October 28 – the day it was confirmed Musk would be taking over.
It was also reported that downloads for rival social networks Mastodon and Hive Social had eclipsed those of Twitter on several occasions during early and mid-November.
Back in December, Mastodon creator Eugen Rochko said millions of new users had signed up in recent weeks.
He said in a statement at the time: "Mastodon has recently exploded in popularity, jumping from approx. 300K monthly active users to 2.5M between the months of October and November, with more and more journalists, political figures, writers, actors and organizations moving over."
Meanwhile, Twitter co-founder and former CEO Jack Dorsey launched his own decentralized social platform BlueSky.
The new social network was launched on App Store a few back but is listed as a 'private beta' and, as such, is currently strictly invite only.
Dorsey has previously said his newest venture would be 'a competitor to any company trying to own the underlying fundamentals for social media or the data of the people using it'.