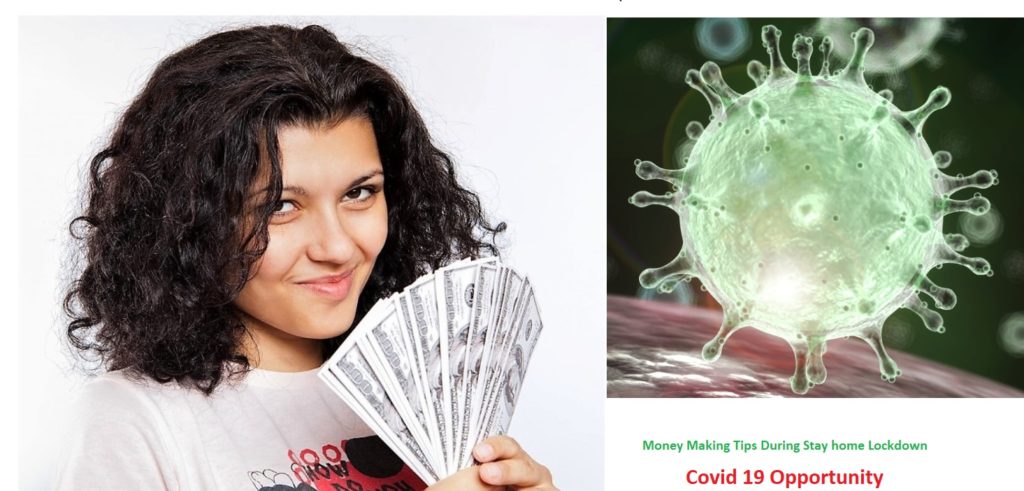 Earth is passing from most dangerous condition of this century in 2020 year. The new chinese corona virus has been spread all over the world. The numbers of infected patients and deaths are breaking previous day records. WHO has suggested the best way to save yourself from infection of this covid19 is to stay at home. Stayhome # hash tag is trending in maximum number of social media sites from last few months. And whole world is going to face big financial crisis in upcoming month which can't be recovered in upcoming years but you can save money and make money at home, I would like to share with you some ideas which will help you while you stay at home.
Hobby
Think in deep about your hobby which you just left because of busy daily schedule of offices and others. Remember your hobby which you were not able to complete in lack of time. You didn't able to complete it because of any reason such as school, job, marriage, social responsibilities. But now your government has given you chance to complete hobby.
There are lots of different area where you can fulfil your hobby dream and prepare career such as artist, chef, painter, photographer, musician, creative thinker, planting, home decoration, hair dresser, playing indoor games, fashion designer, create unique required items etc. Below are some great successful individual who become successful and make their career in hobby.
Sanjeev Kapoor (well known chef)
Manish malhotra (fashion designer)
Tyeb mehta (painter)
Hiralal Yadav (musician)
Learn programming language
This is an opportunity if you want to change your profession as a programmer. Learning any programming language is a challenging task and years of hard work, practice, logic thoughts can convert a person into successful software professional. You can learn basic C language to complex java language too if you've internet.
There is lots of learning material available over internet. Programming blogs, articles, e –books, online forums, and templates will defiantly help you in your journey. Youtuber can play vital role, you can learn from live examples from youtube template based video where you can learn from installation to hard complex programs.
Affiliate marketing, social media marketing, internet marketing, digital marketing, blogging etc are also a part of Information technology professionals.
Work from home
If you're a lucky one professional of company which offers you to work from home then get benefit from it. Work from like a professional and give maximum output. Software, tax consulting, business management service providers, telesales are few examples of companies which may offer to employee work from home. If you behave like a professional at home too then management will defiantly rewards you for your hard work.
Mobile Apps
Many android mobile apps are offering you to make money by installations of these apps and browsing their contents. Although it is very time taken and boring but it can help you to make few money in Covid-19 lockdown period. Search in Google play store to know more about such apps, remember to read reviews before download.
Start your own website
If you're an offline business owner such as saloon, restaurant, jewellery, fashion fabrics, toy store, cycle store or any other shop which is closed now due to lockdown then create your own website without hiring any professionals. There are many web platforms which help you in making of your business responsive website without any technical knowledge. Weebly, Wix, Google my business, bravenet, wordpress are few popular names where you can create your simple business website to e-commerce website.
Congratulations if you have been able to made your ecommerce website because ecommerce website is running in this covid-19 lockdown period with delivery. Wix is as simple just mouse drag and drop with texting method to create website.
Creativity of new product making
Creativity and innovative idea always a reason behind make money. Preparing chips, alibabad.com, paytm, mac donalds, burger, cake, stapler, thermometer and many products or concepts are innovation from creative minds. Nowadays you can think creativity from youtube, discovery channels and national geographic too.
Online Shopping
You can buy product and stuff like food, chocalte, milk, packed food, fabric from online shopping cart website. Many e-commerce portals are offering big saving and discount on products. You can buy from there and save money with free shipping option. You have much time to eurf their website in this stay home lockdown period.
What not to do?
Viral rumours in whatsapp and other social media, go to outside from home, social gathering etc
What to do?
Stay home, make a habit to wash your hand every hour, help needy people with 2 metre of distance, and follow government guidelines. I hope above tips will help you in making money while you stay at home. If you've any more ideas then please share with me.