When searching for poster maker or flyer maker, you can always find many solutions online like Canva, Piktochart and many more. But in this article I'll show you a new start-up one. It's called DesignCap.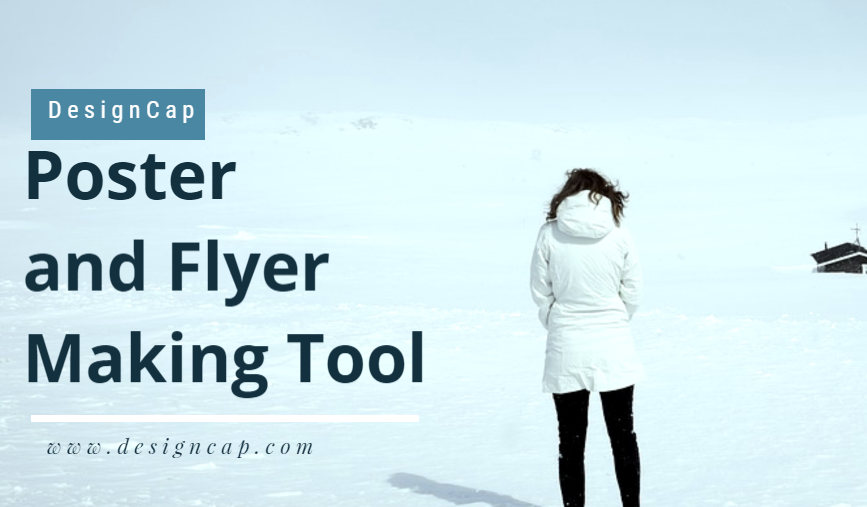 Overview
DesignCap is a free program, with a straightforward and tidy interface, for making posters and flyers online in just a few minutes. DesignCap is compatible with almost all modern browsers. To get a perfect performance, they suggest using it on Internet Explorer version 10.0 or higher, Firefox 10.0 or higher, Safari 7.0 or higher, or Google Chrome 14.0 or higher. It's fast, visual, and without any learning curve. Since it's completely free, go ahead and have a try.
How to make a poster or flyer in 3 steps
DesignCap makes it easy to complete a poster design in only 3 steps, choose a template and customize the design and then save it or print it out.
Step 1. Choose a template
Choose a poster or flyer template from the hundreds of preset ones. To get you inspired, DesignCap offers hundreds of stunning templates for posters and flyers. They cover promotion, party, shop, movie, sale, advertising, fitness, holiday, marketing, etc.
Step 2. Customize the design
DesignCap gives you many options to make your poster or flyer unique. First you can change the original photo with a new one from your computer or Facebook account, even search it online in the app since it is integrated with Pixabay stock images. Feel free to find a stock image or just use your own. Once you add a photo, you can crop, adjust its size, effect, layer, and many other properties.
A picture without text may be somewhat plain. Add some texts for you poster or flyer to take your own dead beautiful photos that are completely unique and amazing. Here you can also change the text font, size, color, alignment, effect, etc.
DesignCap comes along with other elements for customizing like clipart images and background. For the clipart images, it offers you many preset images and online stock images. It's flexible to change a background with a solid color or gradient color or just with an image pattern. Surely, you can add your own photo and adjust its size to cover all the canvas and adjust its opacity to make it as background.
Step 2. Save or print it out
Once a satisfying poster is finished, save it or print it out for any use. DesignCap allows you save your posters as JPG an PNG or share your poster to social media on Facebook, Twitter, Pinterest and Tumblr. It's fairly amazing to print it out directly.
Pros of the poster maker
Easy to get inspired with the hundreds of templates;
Tons of useful art resources;
Flexible and fully customizable features;
Completely free of charge;
User-friendly interface and easy-to-use tools;
Compatible with multiple languages;
Cons of the poster maker
Unable to save project online.
Final thoughts
DesignCap is a highly versatile tool that allows you create posters and flyers incredibly easy,with a lot less fuss. And best of all, it's free. This is the ultimate extension that you can add to your Google chrome to make sure you can have a quick access any time. Ever wish to make a poster at no cost? Just try DesignCap. With a few clicks, you can alter your life photo to a poster staggeringly flawless. You really don't have to worry about how to get there without any technical skills. Open DesignCap and you will know how.