Reliance has announced future plan, offers and Jio upgrades in their 41st Annual General Meeting. The most discussion is JioGigaFiber which is Fixed Line Broadband connection which can give up to 100mbps speed and provide 4K videos. This will make happens Indian dream of smart Home and online gaming services without any interruption. Company has claimed that JioGigaFiber will give up to 1Gbps maximum speed using FTTH.
The user will get multi party video conferencing and voice activating assistance services by Jio Giga fiber. Company has added that user can view 360 degree content in virtual reality with the handset using this network.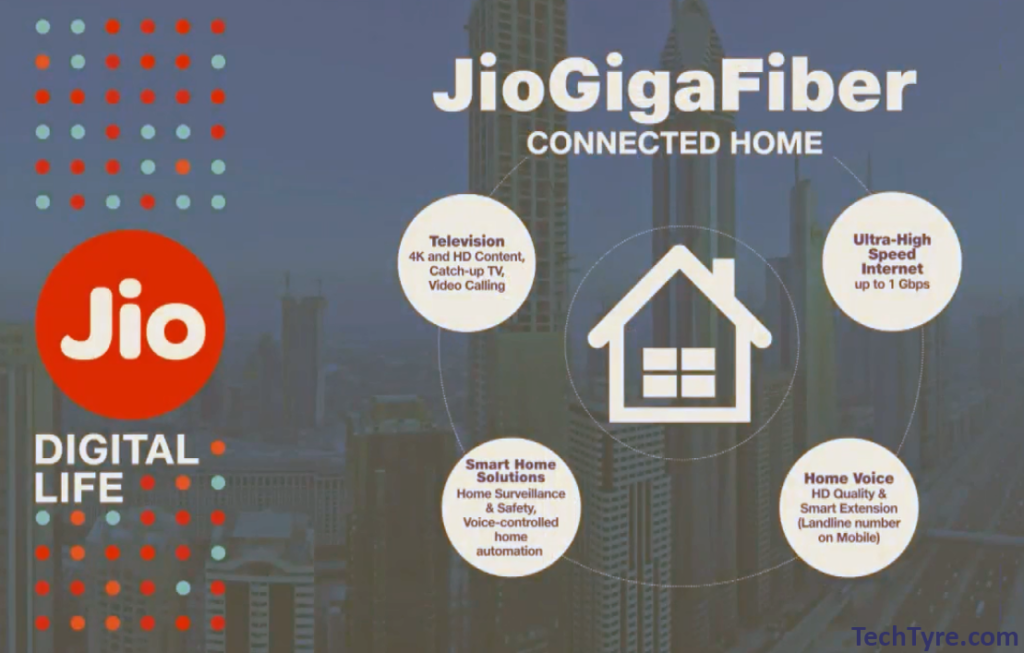 The company is testing Fiber to the Home (FTTH) from last two years. The special feature of this service is that the user can use high speed internet at home including their smart home devices by JioGigaTV and they can easily convert every socket into the smart socket at home.
The second special feature is that they can perform video calling from one TV to other TV using JioGigaTV. The company has supposed that TV video conferencing will be more beneficial for health related consultancy.
Currently, the company will start JioGigaFiber connectivity services in more than 30 cities. The Company also claimed that Jio fiber will be faster than other telecom network.
The owner of company said that JioGigaFiber will become world's biggest green Field line service provider which will start in more than 1100 cities of the country from upcoming year.
What is JioGigaFiber?
JioGigaFiber based on fiber to the Home (FTTH). FTTH means you will get internet service trough the physical cable line provided by the company. The company will provide you special type of internet cable line at your home by which you can rich with high speed internet connectivity. Your current cable can't able to get you this high speed internet, so company make special type of cable which will support high speed internet at your home and office premises.
You will get more speed by using FTTH. The user will get fast internet connectivity compare to other service provider. You can perform high speed graphics gaming, TV video calling, echo commands and other complicated work which can't be possible without fast internet connection.
Before Jio the government telecom company BSNL is providing FTTH services at limited locations. After Jio entry other telecom companies are going to provide this kind of services and then tariff war will begin again.