Support for Apple HomePod (Gen 2) and changes to the emergency SOS button are some of the features that the latest iOS update brings.
Apple has finally rolled out iOS 16.3 for all iPhone users. The update has been in beta for sometime and is finally available for download. The iOS 16.3 update comes with new features and bug fixes. Support for Apple HomePod (Gen 2) and changes to the emergency SOS button are some of the features that the update brings. Here's a look
With the new iOS 16.3 update, iPhone users will be able to add a third-party security key to their account. This physical security key will be useful when logging into a new device or accessing AppleID in other cases. Security Keys for Apple ID will replace the verification codes that are sent to Apple devices when signing into other devices. Apple says that security code offers strong protection against phishing and unauthorized account access.
Apple iOS 16.3 brings support for HomePod (Gen 2) that was launched last week. Users will be able to set up and activate the smart speaker. In addition, the update adds a new Unity wallpaper that celebrates Black History Month in February.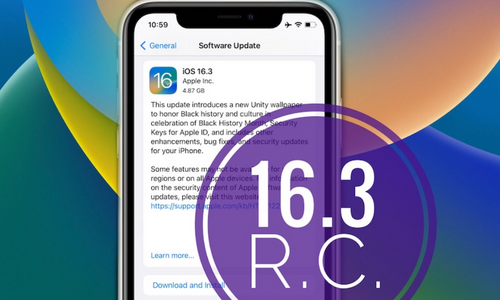 Another key feature coming with iOS 16.3 is an update to the emergency call button to avoid accidental emergency calls. After the update, one needs to hold and then release the power and volume up/down button to place an emergency call.
The iOS 16.3 update also comes with some bug fixes. These are:
– Fixes an issue in Freeform where some drawing strokes created with Apple Pencil or your finger may not appear on shared boards
– Addresses an issue where the wallpaper may appear black on the Lock Screen
– Fixes an issue where the Home Lock Screen widget does not accurately display Home app status
– Addresses an issue where ‌Siri‌ may not respond properly to music requests
– Resolves issues where ‌Siri‌ requests in CarPlay may not be understood correctly
How to download iOS 16.3 update
To download the latest iOS 16.3 update, follow these steps
– Go to Settings on your phone
– Tap on General and then on Software Update
– Next, tap on Download and Install to download the iOS 16.3 update
iOS 16.3 beta 1 also introduces support for physical FIDO-certified security keys. These act as an optional layer of added security to your Apple ID. After setting one up, every time you log into your Apple ID account, you will need to scan or plug in the physical security key instead of relying on a two-factor authentication code sent to your other Apple devices.
If you have the iOS 16 Developer Beta profile installed, you can update your compatible iPhone to iOS 16.3 beta 2 by following the steps below:
Launch the Settings app.
Head to the General section.
Tap on Software Update.
Give the page a few second to refresh.
The update will then appear.
Tap on Download and install.
Agree to the Terms of Service, after reading them thoroughly and carefully.
Make sure your iPhone is connected to a power source until the update finishes downloading and installing.
Voila! You're now running iOS 16.3 beta 2.