In Whatsapp you will get an amazing 'Edit message' feature, how will it works? Whatsapp is finally working on the ability to edit text messages for a future update of WhatsApp beta for Android, iOS, and Desktop!
WhatsApp is finally focusing on developing more messaging features, and we are happy to announce what the next major feature is today. After releasing the ability to react to message as a new messaging feature, WhatsApp is now working on letting users edit their text messages for a future update of the app! WhatsApp is undoubtedly one of the most popular messaging platforms in the world. Owing to its popularity, the developers seem to be constantly working on adding new features and improving existing ones.
Finally, WhatsApp is now developing the edit button for text messages again!
HIGHLIGHTS
WhatsApp is working on a lot of new features.
WhatsApp will soon introduce an edit button, undo button and more.
The features are currently under development and have not made it to the final release.
WhatsApp keeps adding new features from time to time to improve the user experience. WhatsApp is going to bring a new interesting feature. Before adding any feature, the developers test in the beta version and there an interesting feature was spotted. It basically means that if you are using an older version of WhatsApp, you can update the app when you receive an edited version of a message from the recipient or a linked device. The update was spotted in the Android 2.22.20.12 beta version on the app.
WhatsApp's 'Edit Message' feature
Now allows you to edit a message once sent. As WhatsApp is bringing the Edit Message option. This latest feature was spotted in WhatsApp's BInfo. The website has also shared a screenshot of it, in which the details of this feature can be seen. As seen in the screen shot, you have sent the edited message. If you are using the latest version of WhatsApp, you will see this feature. Very soon this feature will also be seen in the stable version. However, Android users will be able to use this feature first.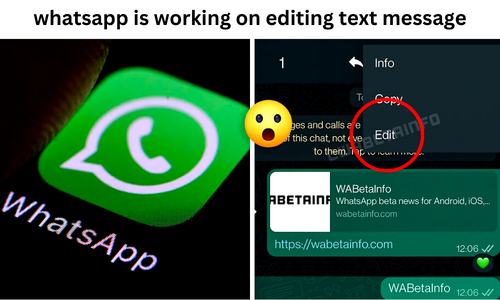 How can it be used?
It is very simple. Just long press on the message you want to edit, then the edit option will come. However, it is not yet known how long you will be able to edit the message.
Other features are also being worked on
In addition to this, WhatsApp is also working on other features. Very soon users will be able to hide their online status, not only that, some other features like Instagram may also be added. Right now, we have permission to delete the text which we do not want to keep the receiver from seeing. But in the new feature, you are allowed to either delete or edit your sent message.
It is interesting to note that in May this year, WhatsApp was working on the same feature, but suddenly decided to drop it without any explanation. Unfortunately, there is no word on when the feature will make it to the stable version of WhatsApp, so we might have to wait a while before it is available to everyone.
Earlier this month, a report suggested that WhatsApp might stop working on older iPhones as early as October and has started alerting iOS 10 and iOS 11 users about the same.