5G Speed in India, Ookla Report: Ookla Speedtest Intelligence report suggests that in most of the cities where 5G is available, Jio 5G is faster than Airtel 5G.
Key messages:
5G download speeds reach 500 Mbps on 5G test networks
Almost 600 Mbps median download speed on Jio's 5G network in Delhi
Consumers are 5G ready
iPhone users have most 5G-capable phones
5G Speed in Mbps in india, Ookla Report: Earlier this month, during the India Mobile Congress 2022, Bharti Airtel and Reliance Jio announced that they will be launching 5G services in select cities in the country. Now, Ookla's Speedtest Intelligence report suggests that 5G speeds in the country have reached 500 Mbps on test networks.
The report suggests that during the 5G testing phase last month, they witnessed speeds as low as 16.27 Mbps and as high as 809.94 Mbps. which meant telecom providers were still calibrating their networks. The Ookla Speedtest Intelligence report compared the median 5G download speeds across four cities where both Jio and Airtel are available.
Airtel and Jio turned 5G on
Prime Minister Narendra Modi launched 5G services in select Indian cities on Saturday, October 1 during India Mobile Congress 2022 in New Delhi. Operators took the opportunity to discuss their 5G plans at the event as well. Bharti Airtel's chairman Sunil Bharti Mittal said 5G services would be available in eight cities: Delhi, Mumbai, Varanasi, Hyderabad, Siliguri, Chennai, Nagpur, and Bengaluru from the launch and will expand across India by March 2024.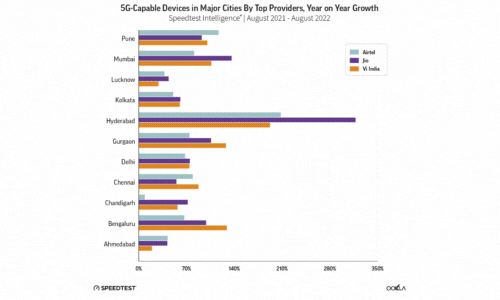 Reliance Jio, which shook up the Indian telecom industry when it launched 4G, also has ambitious 5G plans. Jio's 5G beta trial "Jio True 5G for All" launched during Dussehra on October 5 in four Indian cities, including Delhi, Mumbai, Kolkata, and Varanasi. Jio has rolled out a 5G Standalone (5G SA) network, which doesn't rely on its existing LTE network and which Jio justifies for using the "true 5G" name. Jio's "welcome offer" is available to those that receive an invitation. Users can get unlimited 5G data with up to 1 Gbps speeds. Jio plans to gradually expand its 5G footprint to deliver the Jio 5G service across the entire country by December 2023. Jio also is looking to make the services "very affordable," according to Reliance Jio chairman Akash Ambani during the IMC event. "it should be affordable for every Indian – right from devices to service."
Despite financial woes, Vodafone India has also reiterated its commitment to the 5G roll-out but it has not yet provided specific timelines.
5G download speeds reach 500 Mbps on 5G test networks
Speedtest Intelligence shows that operators have been testing their networks before the October 1 launch. We've already seen a wide range of 5G download speeds: from low double-digit (16.27 Mbps) to a mindblowing 809.94 Mbps, which points to the fact that the operators are still recalibrating their networks. We expect these speeds to be more stable moving forward as these networks will enter the commercial stage.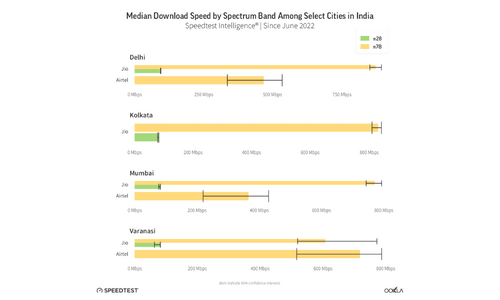 The report also talks about the 5G readiness amongst users in India. Around 89% of people in India are ready to upgrade to 5G. Samsung, Xiaomi, Realme, and more are top smartphone makers in the market but iPhones are said to be more 5G capable with the iPhone 12 being the most popular 5G device in India.
Consumers are 5G ready
Earlier this year, we surveyed Indian consumers and found 89% of Indian Smartphone users are ready to upgrade to 5G. Operators have an existing addressable base of devices that they can target from the start, and over the past year the number of 5G-capable devices has been on the rise. Among Speedtest users, Jio saw the largest increase in 5G-capable devices (67.4%), followed by Airtel (61.6%), and VI India (56%).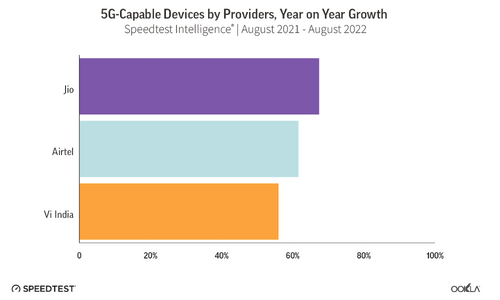 Using Speedtest Intelligence data we compared 5G-capable devices across different cities. Hyderabad was the one city where all operators have seen significant growth in terms of 5G-capable devices, with Jio even tripling its install base.
Data from Ookla's Speedtest app users suggests that Jio witnessed the largest increase with over 67.4 per cent of phones already 5G capable (67.4 per cent), which was closely followed by Airtel at 61.6 per cent and Vodafone-Idea at 56 per cent.
Jio's 5G network showed almost 600 Mbps median download speed in Delhi
We used Speed test data to compare median 5G download speeds across four cities both Jio and Airtel built their networks. In the capital city, Delhi, Airtel reached nearly 200 Mbps median download speed at 197.98 Mbps while Jio almost broke 600 Mbps (598.58 Mbps) since June 2022.
In Kolkata, operators' median download speeds varied the most since June 2022: Airtel's median download speed was 33.83 Mbps while Jio had a much faster median download speed at 482.02 Mbps.
In Mumbai, one of the most densely populated cities in India, Airtel fell behind Jio once again, reaching 271.07 Mbps median download speed compared to Jio's 515.38 Mbps median download since June 2022.
In Varanasi, which is considered the Hindu spiritual capital of India, Jio and Airtel achieved closer parity, with Airtel achieving a 5G median download speed at 516.57 Mbps to Jio's 485.22 Mbps median download speed since June 2022.
Additionally, Hyderabad saw significant growth in terms of 5G-capable devices. So, what are your thoughts on 5G in India? Do you think it will prove to be a major upgrade over 4G? Let us know in the comments below, and stay tuned for more such updates on 5G in India.