Google authentication is a very simple technique for securing your gmail account. It offers two step authentication means it provides two layer protections in your account which include One Time Password (OTP) too. The method installs google authentication application or using google authentication page by online services.
How 2-Step authentication works?
2-step authentication is the technique that provides the extra layers of security to your account. In basically, when we use the account then we enter the username and password. But using 2-step authentication technique, when you login your account from new device then you have to enter additionally a one-time-password along with username and password. You will get that one-time-password through SMS. So, this technique is very helpful for securing your account.
Benefits of Google Authentication app
It provides the new code every 6o seconds
It is more secure app because it works inside a secure box
It works without internet connectivity and network coverage of area in mobile
It is a simple way to secure gmail account
It provides the 2 layer protection so if anyone hack your gmail password they cannot use it because they do not know your OTP
How to active 2-step authentication
Step 1:- Open the Google's 2-Step verification page and then click on right side Get Started option.
https://www.google.com/landing/2step/
Step 2:- Then enter your email account and password. And then click the Start setup button.
Step 3:- After click on Start setup button, choose your country and enter your mobile number because google can send the six-digit verification code means one-time-password (OTP) in your mobile. And then click on the next button.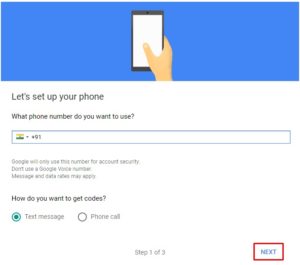 Step 4:- Then enter your six-digit verification code which you have received through SMS by google and then verify your mobile number.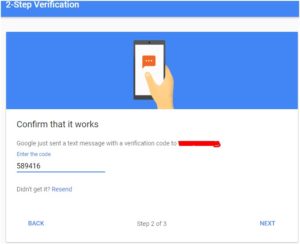 Step 5:- You will get message "It worked! Turn on 2-Step Verification?
Now that you've seen how it works, do you want to turn on 2-Step Verification for your Google Account". Just click turn on to start this service.
Step 6:- Now connect your mobile to your google account using SMS by keep active 2-step verification. Open the 2-step verification page in your web browser and then click on the Authenticator app.
Step 7:- One dialog box will pop up for type of your mobile operating system, Android or iPhone. Select anyone and then click on the next option.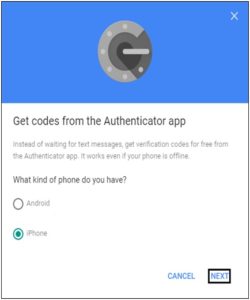 Step 8:- You will get barcode or QR code scanning dialog box. Scan that barcode with the google authenticator app and then click on the next option.

Step 9:- Now, install the Goggle Authenticator app on your mobile device. After installation open that application in your mobile.
Step 10:- After click on that app, open the main page of the authenticator app. Then click on the plus (+) sign at the top right side of screen.
Step 11:- Then click on the scan barcode option at bottom, after click on that option your device camera is activated and you will see green box in your device. Basically green box is required the sign at the QR code on the computer screen. And then you click on the Manual entry option and enter your code on the screen of the device. Then you will see your new added google account in your authenticator app. After adding the google authenticator account you will need to type the generated code in the device. If code is expire at that adding time then wait for new code. It will change in every 60 seconds.
Step 12:- Then again open the Google two-step authenticator page and then click on the Next option.
Step 13:- Open the Set up authenticator dialog box and enter the six-digit code from the authenticator app. And after entering code click on the Verify option.
Step 14:- Then Open the one dialog box and then click on the done option.
After all this process you google account is under the two-step authentication technique. Now your gmail account is more secure with this 2 layer security checks.