Globally, foldable phones captured a double-digit market share in the ultra-premium price segment, above $1,000, for the first time this year. (Bloomberg)
American tech giant Apple could be on track to release a foldable iPad as early as next year, according to supply chain analyst Ming-Chi Kuo.
Apple will release a foldable iPad with a carbon fiber kickstand in 2024, according to noted Apple supply chain analyst Ming-Chi Kuo.
Kuo says the new foldable iPad will have a carbon fiber kickstand to make it lighter and more durable, presumably compared to an iPad's Magic Keyboard. The kickstand would be manufactured by Chinese firm Anjie Technology.
Apple, the American tech giant, is said to be in the works of releasing a foldable iPad in the near future. This piece of news was reported by The Verge, a popular American technology news website, which cites a tweet from supply chain analyst Ming-Chi Kuo. Kuo has expressed his positive outlook on the foldable iPad and believes that its release will greatly improve the product mix and boost Apple's overall shipments.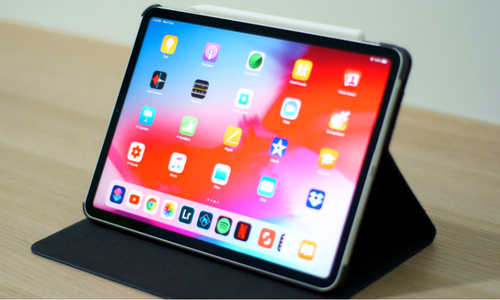 Kuo's tweet, which was posted on Monday, has sparked a lot of excitement among tech enthusiasts and Apple fans alike. The foldable iPad has been the subject of many rumors and speculations in recent years, and the tweet from Kuo seems to lend some credence to these rumors. If the foldable iPad does indeed make its way to the market as early as next year, it will be a major milestone for Apple and could greatly disrupt the tablet market.
He anticipates the updated iPad Mini, which is scheduled to begin mass production in early 2024, will join it. According to Kuo, who didn't offer many additional details, the anticipated iPad foldable will reportedly have a "carbon fibre" kickstand produced by the Chinese component business Anjie Technology.
The last significant foldable iPad prediction, made by Display Supply Chain Consultant analyst Ross Young in February of last year, was for a release date of 2024, according to The Verge.
He changed his Apple foldable prediction after Display Supply Chain Consultants analyst Ross Young last February said Apple was investigating foldable notebooks with a 20-inch screen. Bloomberg's Mark Gurman reported at the time that Apple was exploring a dual-screen, foldable MacBook and iPad hybrid, with the second screen serving as a virtual keyboard. But he said Apple would likely release it in 2026.
Rumors of Apple's foldable iPad follow Gurman's January report that Apple is seriously considering making a MacBook Pro with a touchscreen — something that Steve Jobs once said was an "ergonomically terrible" concept. However, touchscreen capability has become popular for Windows laptops. Apple could release the touchscreen MacBook in 2025.
Apple does hold a number of patents for folding devices. Earlier this month, it was awarded another one. However, it is yet to ship any folding devices, which puts it behind several of its key rivals. Samsung, whose Galaxy Flip and Fold dominate foldable sales, last year created several ads mocking Apple's lack of a foldable device around its iPhone 14 launch.
According to him, Apple is working on a foldable iPad/MacBook hybrid with a roughly 20-inch folding screen, but he predicted that it won't be ready for sale until 2026.
Later, Mark Gurman of Bloomberg reported that Apple had been looking into a dual-screen foldable device. He also said that when the device is used as a clamshell like the MacBook, the bottom half of the display will serve as a virtual keyboard.
Despite not forecasting a specific release date, Gurman did state in October that Apple's foldable iPad would make its debut "later in the decade," according to The Verge.
At the moment, flip-style foldables are more popular than the larger tablet-like format. Samsung said that 70% of Galaxy foldable buyers picked the Flip, and 30% picked the Fold, when it announced that 10 million foldable smartphones were sold in 2021.