Today we need internet to perform any type of work however we have to use fast 4G internet connectivity to perform the job smoothly. The SIM or internet service providers cost you extra for this. But if you're android user then you can easily use free fast mobile connectivity. There are many rumors which claim for free internet connection, well I have performed some research and found that few of them really work.
Here I am going to share several tricks by which you can get free high speed internet connectivity in your android devices.
For iOS users : Free Internet For IPhone, IPad And IPod Touch Devices by iTune Wi-Fi Apps
Benefits
You don't need to pay anywhere.
No technical skill require, if you know how to operate android device then you can do those tricks.
No need to scare for virus and other harmful malware.
Requirement
You must have an active data plan without balance.
The method or setting works well with all versions of Android, but preferably Android 4.0 or higher are recommended
The method works for all android mobile, devices and tablets
1. VPN Method For Free Internet
There are many VPN (virtual private network) Service provider which you can use to connect internet. Doing some changes in VPN software connects internet virtually, so you're not charged for internet surfing. It's simple to configure with faster internet connection.
Droid VPN
To use this you need a rooted android device and Airtel SIM card with null balance.
Download and Install Droid VPN from Google play store.
Register with username, password and legal email address.
Click on Connection Setting – > Connection Protocol – > Select TCP option
Tap on HTTP Headers – > Tap check box to Enable
Type on Custom HTTP Headers "Host:get.wynk.in/X-Online-Host:get.wynk.in/" and click OK
Open Droid VPN – > select any available connection – > click on connect button. You connect to Droid VPN now.
Surf browser, Youtube video, Play games, check emails without any mobile data balance.
Fly VPN
The Good thing of this technique is you don't need to download this VPN software in your device. It can work without download and Installation.
Click on Setting – > Wireless and Network – > Select VPN
Click on + sign on top right corner to add new VPN
Give name as "FlyVPN" or whatever you want
Select Type as "PPTP".
Add Server address of your particular country. You need to register to get this IP address. It will be in XXX.XXX.XXX.XXX format.
http://www.flyvpn.com/User/VpnServers
Select Check "PPP encryption (MPPE)" and Save
Click FlyVPN to connect
Enter credentials which you have used during registration and click connect
Other VPNs
There are many VPN apps which you can download and perform specific configuration to connect free internet such as Feat VPN, Finch VPN, Freedom VPN, SKY VPN, Troid VPN and many more. The installation, setup and use of all those VPN apps are almost same. You may find other latest software too from search. Ensure that you can use them for free high speed internet connection. Almost all VPN software supports android users.
Free Internet Android 2020 Method
2. Apps Method For Free Internet
Element53 Lite and ProxyDroid
Install Element53 Lite and ProxyDroid from Google play store.
Launch Element53 and press the menu button – > setting – > Network Type – > Mobile
Launch ProxyDroid and do below setting

Host: 127.0.0.1
Port: 3128
Proxy Type: SOCKS5
Auto Connect: Checked
Bound Network: 2G/3G

Active your Mobile Data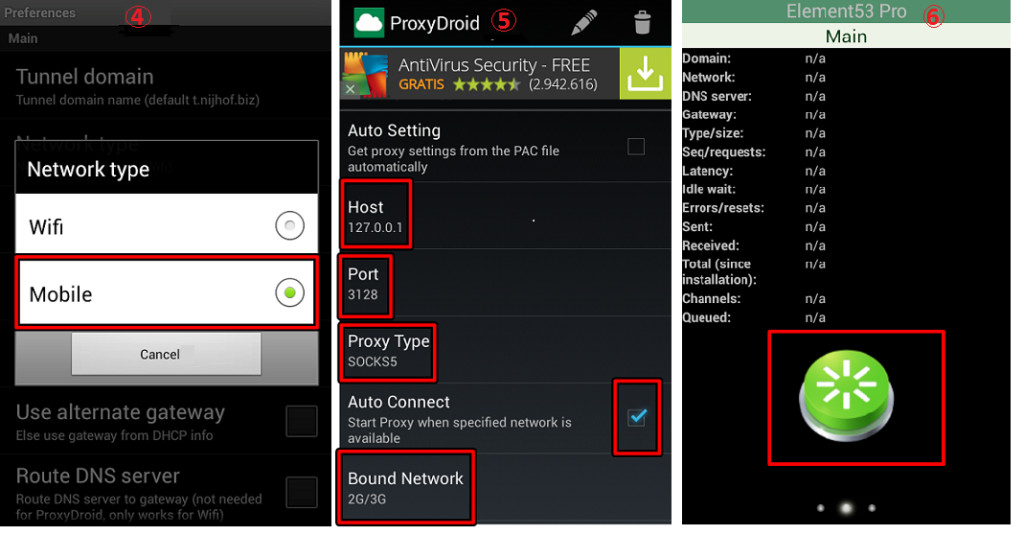 Open Element53, click Connect and it's done.
Databack App
This app is made to save your current plan mobile data for 4G, 3G and 2G connectivity, the app can helps you to save upto 500MB of free data which could be wasted during mobile surfing. You can download this app from Google play the easiest way to download any app.
You can use the saved data any time when you current data plan ends. There's a referral bonus of 50MB data too. More Infor on Databack App
Gigato App
Gigato provides free unrestricted Internet data for your Android. It's easy to download, you will earn internet and very simple to use.
KickBit App
This app allow you to give free data by answering simple question and simple online shopping surveys. Kickbit is the way to get free airtime and mobile data load simply by downloading and using free apps that you would use anyway!
Swagbucks and Mcent are few well known apps which provides you free mobile data for online surveys, free mobile installation, watching videos and answering simple questions.
3. WiFi Password
It's very simple app to download for android device users.
Download, install WIFI password app from Google Play Store. Enable GPS.
This app allows you to create random keys for the Wi-Fi network.
Security Type:
WEP 64/128/256
WPA2 64/160/504
Algorithm generates a password for your router, entirely random to avoid molest by crackers/ hackers on the device.
You can create a random password of strong encryption with one click, which really boost their protection.
You can find all open networks of city.
It will automatically scans all accessible wi fi connection points and connect
After connected you can use your device as an access point to the wireless network.
HotSpot Finder App, FreedomPop, Avast Wi-Fi Finder are similar apps which shows you free available wi-fi connections and portable hotspot around you and connect your device for internet for some period of time.
4. Opera mini achusoft
This trick is only useful for Airtel SIM card operators. Opera mini is made for android operating system to bypass Airtel internet.
Uninstall previous opera browser and restart your device. Download and Install Opera Mini.
Setting > More > Mobile network Setting
Select Subscription
Go to access Point Names Option > New VPN > Insert below data and save.
Name : AchusoftConfig
APN : airtelgprs.com
Proxy : 141.000.011.253
Port : 80
Now you're ready to surf unlimited free internet with high speed in opera mini browser.
5. Interesting Free Internet Hack Tricky Videos
I found few proven trick videos which really helps to get free android connection for Android devices.
Must Read
Play Pokemon Go Without Internet Connection
Watch Youtube Video Without Internet Connection
Whatsapp And Other Messenger Without Internet