Many times we have question that does Jailbreak Slow down iOS operation? We use Electra 11.3.1 iOS and Stock iOS in our iphone. We performed some complex task. We have found some analysis according the phone performance and its ability. We have used iphone 8 plus and iphone 10 for this testing task because both configuration are almost same but the OS are different. iphone 8 plus has installed 11.0 and iphone 10 has installed 11.3.1 iOS.
Now, let's perform some task using Geekbench which will give performance report of phone. When we compare apples to apples it will be probably good, each individual device has some similarities and differences. The biggest key differentiator here is that one is running on iOS 11.0 and other is running on iOS 11.3.1.
Without Jailbreak
Let's we start performing Geekbench task on iPhone 8 plus devices without jailbreaking and not installed Electra and Cydia but it running on iOS 11.0. So, it has great control over device. Let's check score on Geekbench what will be given. As we expect it gives the single core here we have 4245 and the multi core we have 10235. The score can be used as base comparison to see if jail breaking later what will be impact on these results.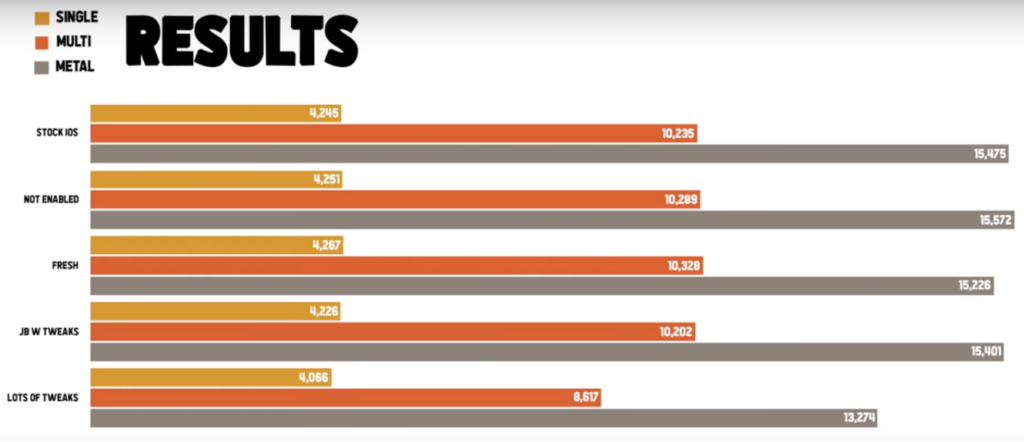 Without Enable Jailbreak but Installed
Start the second test using iPhone 10 which installed jailbreak but not enabled and it running on iOS 11.3.1. In previous task we performed without jailbreak. Now we are performing that task without enabling jailbreak. Let's perform geekbench process and check the result score. Once the test concluded we have single-core score is 4251 and multi-core score is 10289. There is little bit difference between those both tasks but not much. If we compare the scores side-by-side of a non jailbroken device and previously jailbroken, without enabling jailbreak they are pretty much identical.
Performing Geekbench Task with Cydia
Going forward and back to iPhone 8 who have got now fresh jailbreak and cydia installed but there are no tweaks have been installed on device. Now, we perform geekbench task and check the impact with installed jailbreak Cydia device. We found that single-core scores 4267 and multi-core score 10328 right around what we got when it was not jailbroken. When the jailbreak was not enabled but the multi-core score here is actually even better than when it wasn't enabled. Alright, Previous three task performance well but there is no more difference among those. Having Cydia installed does not impact our performance in any way.
With tweaks and Apps
Next, we have a lot of tweaks already installed and that's the reason why we didn't really want wipe the sky entirely. We've been doing tweak videos with the all day. So when we restart and re-enable our jailbreak as you guys can see there's lot of top tweaks and widgets are enabled. Currently, we've installed 92 packages in those devices that show a lot of animation or CPU intensive.
When this test finished up, we have a single core score of 4226 and multi-core score of 10,202. If we compare these to the original scores we got same points when we have started. There is no significant difference with all of these tweaks installed with device fully jailbroken on the iPhone 10 and iPhone 8 plus. There is no significant difference between iOS 11.0 and iOS 11.3.1 performance wise they are also next to identical in Geekbench all right. In iphone 8 plus we installed as many tweaks that we could possibly think to add some animation that could be running in the background that may occupy CPU intensive. So, we added ton of these tweaks we already noticed our device.
We picked specific tweaks because we've noticed previously from general use that with installing them battery life has suffered. We had been figured something where they are using more CPU power than they should be and when they're using the CPU power that means less CPU power is available for you to use your apps. So, once these results completed we got a single core score of 4066 and a multi-core score of 8617.