Twitter's paid service "Twitter Blue" has become available in Japan, with a dedicated icon displayed as of Jan. 11.
According to Twitter Inc., the fee for the service is 980 yen (about $7) per month via the official website. Through Apple Inc.'s app market, it costs 1,380 yen (about $10) per month. The service includes a function that allows users to edit their tweets after posting them. The IT company also plans to add a feature to halve the amount of advertisements displayed in the future. Accounts of subscribers to the service are labeled with a blue check mark.
A blue "verification mark" on Twitter indicates that an account is authentic. Previously this had been limited to companies and celebrities, but Twitter Blue extends it to general users. Initially, Twitter Blue was offered in five countries, including the U.S. and Canada, but Japan was not included.
CEO Elon Musk has indicated that he intends to increase billing revenue as Twitter seeks to break away from its dependence on advertising revenue.
Some users on the Japanese version tweeted "I registered for Twitter Blue" on Jan. 11, and "Twitter Blue" became a trending topic.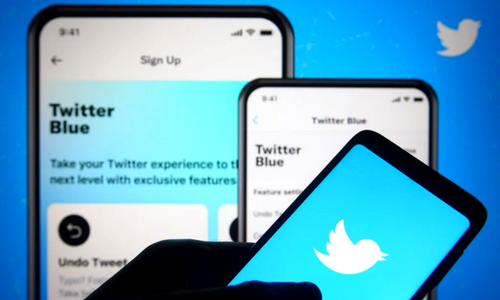 After launching Elon Musk's version of the Twitter Blue subscription service last month in five countries, the company has expanded the paid plan to users in Japan. Both the old (launched in 2021) and revamped Twitter Blue subscriptions were only available in the U.S., Canada, the U.K., Australia and New Zealand.
Twitter noted on its support page that users in Japan will be able to subscribe for ¥980 (around $7.40) per month on the web and ¥1,380 ($10.42) per month on iOS. These prices are marginally lower than the U.S. prices of $8 per month on the web and $11 per month on iOS.
At the moment, Twitter Blue offers features like the blue verification badge, longer video uploads, priority ranking in conversation replies, a thread reader and an edit tweet feature along with custom icons and themes. While some of these features were already present in the legacy version of the paid subscription, the verification mark, higher limit on video uploads and the boost in rankings are newly introduced features.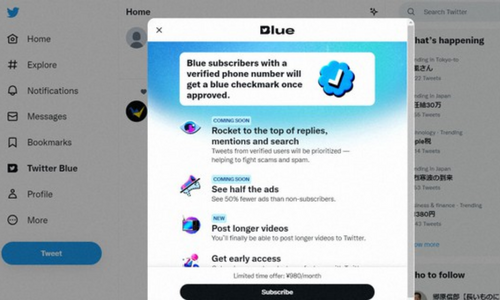 After taking over Twitter, Musk has had lofty plans of reducing reliance on ad revenue by adding more subscribers. He launched a new version of Twitter Blue initially in November but had to quickly shut it down because of people impersonating celebrities and brands.
Twitter Blue's expansion in Japan is not surprising. In his first all-hands meeting as Twitter boss, Musk reportedly boasted about the social network's market share in the country. Estimates noted that Japan has more than 50 million Twitter users.
Since then the company has tried to put guardrails around the new verification system by mandating users to have a phone number to buy the Blue subscription and putting a 90-day cool-off period for newly created accounts. However, Twitter's manual verification system of reviewing names and bio are not working as intended. Last week, a Washington Post reporter successfully created a fake account of Senator Edward J. Markey.