DigiLocker, provided by the Indian government, is a great mobile app for citizens to store and share their official documents and certificates. Different organizations in the country are gradually accepting the documents shared via the app as an authentic copies. In the latest episode, University Grants Commission (UGC) has urged academic institutions to accept documents like degrees, mark sheets, certificates, identity proof, etc., as valid records.
For those unversed, DigiLocker is a handy mobile application developed by the National eGovernance Division of the central government. The aim of DigiLocker is to issue and verify authorised documents and certificates in a digital way along with putting an end to physical documents. The app is available for both Android and iPhone devices.
It is a digital document wallet where you can store your documents such as driving licence, PAN card, Voter ID, policy documents, etc. You can upload the documents and keep these safe when you sign up for DigiLocker account. You get a dedicated cloud storage space that is linked to your Aadhaar number.
How to save documents using DigiLocker
We have here brought you a step-by-step guide to show the method of downloading and sharing your academic documents like mark sheets, certificates, degrees, and other important documents.
Go to the DigiLocker website or Download the app for Android or iPhone.
Go to the "Sign In" section and log in with your registered mobile number or AADHAR number. If you are new to the app, click "Sign Up" and fill in the necessary details.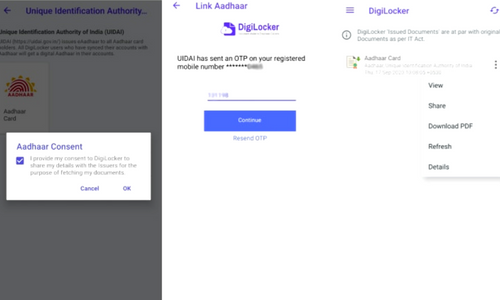 Provide the received OTP on the registered phone number and hit the login button.
First-time user also needs to choose a username and 6-digit security PIN to access the DigiLocker app in the future.
Click on the "Search" option at the bottom of the app and search your institution, board, or university name.
A new window will open asking for your roll number, enrollment number, and class year you want to download the document.
As soon you click on the "Get Document" button, the app will automatically fetch and save the document on your "My Issued Document" list.
How to share documents using DigiLocker
Sharing your saved document on the DigiLocker is as easy as possible. All you have to do is follow the below quick steps:
Open the DigiLocker app.
Sign in with your credentials.
Tap on the "Issued" option at the bottom of the app.
From the list of "My Issued Document", tap on the three-dot option in front of the required documentation to open options.
Click on the "Share" option, allow storage access to the app, and select the platform you wish to share. You can conveniently share it via email, WhatsApp, Instagram, Facebook, or other available platforms. You can even upload the document to Google Photos.
Q) What are the benefits of DigiLocker?
Citizens can access their digital documents anytime, anywhere and share it online for their ease and convenience. This helps in saving time, paperwork, and helps people get their work done on the move.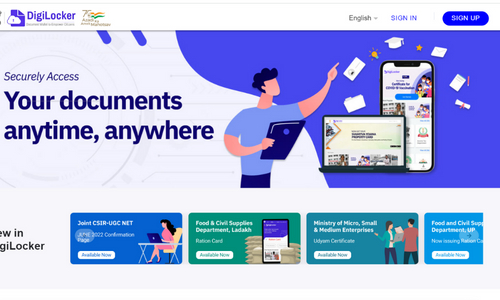 It reduces the administrative overhead of government departments by minimising the use of paper, thereby making it a hassle-free and more environment-friendly way of getting things done.
Self-uploaded documents can be digitally signed using the eSign facility (which is similar to the process of self-attestation of documents). Documents can thereby be shared as and when required, without it having to be manually delivered or collected.
All physical documents can then be kept in the safety of ones home, minimising the chance of ever losing them, or damaging them.
One can save important documents anytime and from anywhere.
One can authenticate document, legally on a par with originals.
One can easily share documents with others.
Faster service delivery – Government benefits, employment, financial inclusion, education, health.
Q) How can I open a DigiLocker account? What do I need?
A) The DigiLocker facility is available only for Indian citizens. To open a DigiLocker account, you must have an Aadhaar card (Aadhaar number). To activate the account, it is mandatory to link your DigiLocker account to your Aadhaar (UIDAI) number.
Q) Is my data (certificates and documents) safe in DigiLocker?
A) The government assures that DigiLocker is completely safe, with some of the best security features available on date. DigiLocker allows only the user to access their data and documents. The user gets a secure and private cloud account, which is password-protected. Security measures also include a 256 Bit SSL encryption and mobile authentication based sign up process (with OTP facility). DigiLocker also comes with a 'timed logout', which means it logs the user out if the individual leaves it open and idle.
DigiLocker follows the best industry practices, and keeps data 100 per cent private, allowing only the user to share details and documents with others. DigiLocker is ISO certified, and has an ISO-27001 certified data centre.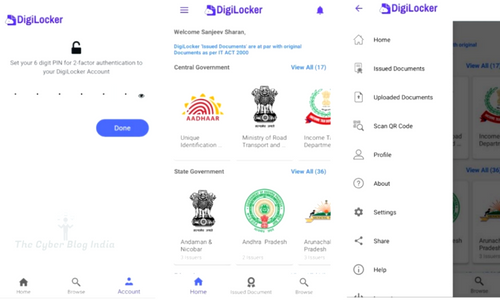 Q) Can an NRI (Non Resident Indian) sign up using a foreign mobile number?
A) No, it is not possible. You can register in DigiLocker using an Indian mobile number only.
Q) What is the maximum allowed file size that can be uploaded?
A) Maximum allowed file size is 10MB.
Q) What type of files can be uploaded?
A) File types that can be uploaded – pdf, jpeg & png.
DigiLocker is a safe platform to store all kinds of official documentation. The app offers 1GB of storage to each registered user.
You are all done. The document will be shared in a PDF file with the receiver.